At Olson's Bicycles we strive to carry everything you need to make your riding experience a good one.
We carry bicycles, clothing and gear at our store in Forest Grove, but we can also special order a product for you if our vendors carry it. Here is some additional detail about our products.
Bicycles
We carry bicycles from: Trek, Fuji, Kona and Phat cruisers.
Kona makes some of the best-riding mountain bikes around.
"At Kona, we're all about the freedom and empowerment of the bicycle. We have been since 1988. We still have the same founding owners. We're still populated by a staff of keen, active, impassioned cyclists. We're not big, nor are we that small. Just a dedicated group of cyclists making bicycles for people who love bikes-no matter if that love is new or long established."
Additional Information at KONA
Additional Information at Phat Cycles
Clothing
| | | |
| --- | --- | --- |
| | | Our clothing line is from Endura and Canari. We have a full range of seasonal riding gear, including our own personalized Olson's Bicycles shop kits. |
Gear
| | | |
| --- | --- | --- |
| | | We carry helmets from Gyro and KALI, a full range of tires from Continental and Vittoria, as well as Saddles, pumps, racks, locks, grips & anything you need to keep your bike looking good and running well! |
Nutrition
We offer a variety of energy bars, gels, and sports nutrition products including Organic, Gluten Free & Non-GMO (genetically modified organisms).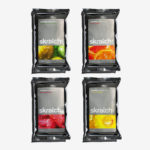 At Skratch Labs our mission is to use real world science and practice to create the very best nutrition products. Products that taste great, that are made from real all-natural ingredients, and that are designed to optimize performanceand health for both sport and life.
But being our best is more than the products we buy. It's also about learning, and we are committed to educate and inspire others while continuing to grow ourselves.
It's a commitment that began when pro cyclists secretly replaced their sponsors' sports drinks with the mix that we made from scratch in our kitchen or while on the road in little French hotel rooms during the Tour de France. This earned us the nickname "Secret Drink Mix." But now that the word has spread and the demand has grown, the secret is out.  Additional Information at www.skratchlabs.com
Hammer Nutrition is dedicated to providing quality products, information, and support to anyone from the everyday athlete to the professional level endurance athlete. We carry the following products: Hammer Gel, HEED, Perpetuem, Hammer Bars, Endurolytes Fizz (NEW) & Recoverite
Additional Information at Hammer Nutrition
All natural energy food. Designed for athletes and great for anyone looking for a healthy snack. Honey Stinger Waffles in Strawberry, Lemon, Vanilla, and Honey are USDA Certified Organic as are the Organic Energy Chews, a delicious gummy energy chew made with all natural ingredients (Orange Blossom, Lime-Ade & Pomegranate Passion).
Additional Information at Honey Stinger
"NOW stands for No Opportunity Wasted, my personal philosophy for living each day as if it were your last," says creator Phil Keoghan. After searching the planet for the perfect bar, I found the answer in an all-natural great tasting bar made with MANUKA HONEY, a natural preservative found in my homeland New Zealand, with special medicinal properties and jam-packed with high-potency energy that will power any adventure." Enjoy flavors such as Peanut & Caramel, White Chocolate, Fruit and Nut, Manuka Honey, and Honeycomb with Chia and Raisins.
Additional Information at NOW Energy Bars